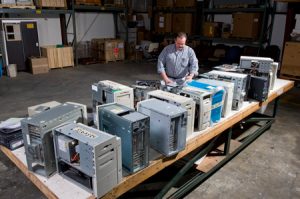 As good stewards of the environment, Fermilab is paying close attention to the way that electronics are purchased, used and disposed. The lab became partners with the Federal Electronics Challenge (FEC), which focuses on the environmental impact of electronics throughout their lifecycle including acquisition and procurement, operation and maintenance and end-of-life management. Fermilab's Computing Environmental Policy includes the commitment to managing the life-cycle of computers. Through continuous improvement, Fermilab has demonstrated leadership in electronics stewardship as evidenced by the following awards:
2007 Federal Electronics Challenge Bronze Award
2008 Federal Electronics Challenge Bronze Award
2010-2017 Energy Star Award for the Grid Computing Center
Fermilab strives to meet and exceed federal electronics stewardship goals which include:
95 percent of electronic products purchased must meet Electronic Product Environmental Assessment Tool standards where applicable
Enable Energy Star® features on 100 percent of computers and monitors
Reuse, donate, sell, or recycle 100 percent of electronic products using environmentally sound management practices.
The Managed Print Services initiative has resulted in the use of more modern and energy-efficient devices and printer settings, overall cost savings due to more efficient usage of supplies, better device management, single-vendor support, improved use of print and imaging devices, and expanded functionality.